Business Performance Improvement
---
The mandate of every organisation is to improve its top & bottom lines of business performance. To achieve this, the organisation is required to periodically evaluate their business processes assess their continuing suitability & effectiveness to meet the defined objectives. This is where an organisation often stumbles on to how much to do and where all to set objectives and at times even scared about the controls & monitoring to be deployed.
The roadmap to performance improvement is:
Map all the business processes in line with the corporate goals and identify gaps and fats
Revise the operational / functional criteria for process performance
Identify areas for improvement and deploy a Cross Functional Team to determine and implement solutions
Employ statistical techniques to monitor and analyse processes to calculate their capability & efficiency
Implement & monitor solutions and assess effectiveness
Integrate thus derived criteria with the existing system.
Recognise efforts made and celebrate achievement.
Our expertise in process assessments and problem solving techniques including statistical techniques help the organisation to achieve assured results with focused efforts.
---
Business Excellence
---
Every business has a purpose and it is convincingly much larger than just calculating the Top & Bottom Lines. It has both tangible & intangible ambitions to be achieved over a period of time and must resonate as the DNA of the organisation. This could be found in the Personal Statements of the Board of Directors or even a Directive or a Policy that sets a framework for conducting the business. In large organisations, the employees are encouraged & engaged in brainstorming the path forward. Resultant, a new Vision & Mission is statement made, that could be well refined from the earlier ones and warrant changes in the way the business is conducted. The ultimate goal is Leadership & Business Excellence
The business model we profess is based on the best practices adopted by several management models. It is custom built to suit the Hi-risk appetite Indian market, where the 11th hour is considered much more than the entire life span.
It all starts with the Leadership, Customers, People and Processes as vectors.
These when carefully structured, the organisation gains direction and momentum in achieving its desired goals and thus motivation to achieve more...!
Success is reviewed, recognised and celebrated in order to reproduce results across the organisation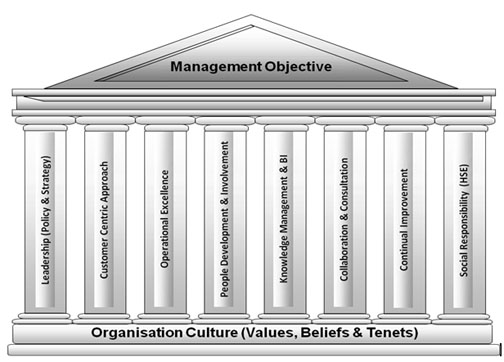 Contact us for an executive overview of the approach and realise the tangible benefits that your organisation could reap.